STREET ART MURALS FOR URBAN RENEWAL, HEERLEN, NETHERLANDS
Building community engagement, fostering urban regeneration through mural street art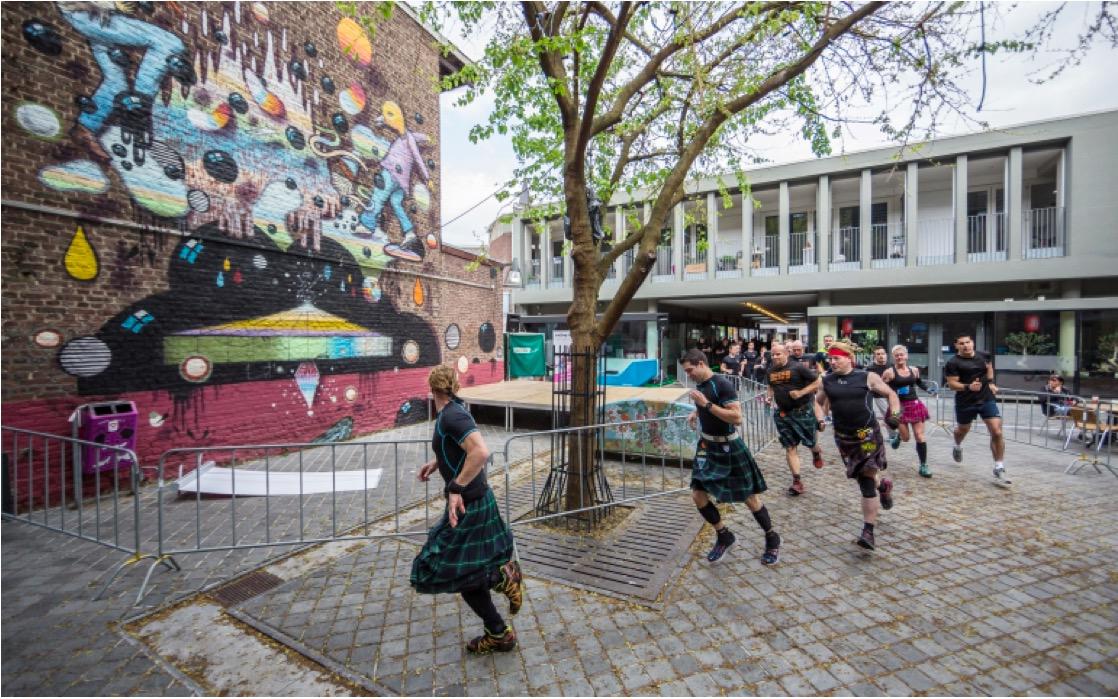 Source: Heerlen municipality http://urbact.eu/street-art-murals-urban-renewal
Keywords: City Branding | Community Art | Disadvantaged Neighbourhoods | Participation | Urban Renewal
PROJECT DESCRIPTION
Heerlen (NL) is marked by a number of degenerated areas due to the collapse of the mining industry in the Limburg region. To foster social and urban regeneration in these areas the municipality uses community art as a tool to engage with communities and improve the image of depressed neighbourhoods. By capturing the potentials of a bottom-up mural art movement being developed in Heerlen over the last few years, the city facilitates its further development. All murals have been created through community engagement, in which citizens, entrepreneurs and artists co-created and took co-ownership in the works. This builds long-lasting and reciprocal social engagement. Moreover, the movement contributes to Heerlen's positive city image both inside and outside: The city is now able to attract more and more visitors.
Heerlen Murals is a community art form that is based on the creation of mural artworks in the city through community involvement to counter social and urban degradation. Heerlen Murals' success is in line with and based on the spreading urban trend of place making. People care about public places they use when they are emotionally connected to them, and this can contribute to sustainable use of public spaces. Community art, especially murals, is a strong and effective tool to inject life into abandoned public spaces. Artists create the murals on raw walls and derelict buildings selected with their owners. The murals reflect on local contexts of people, neighbourhoods and the city's history.
Activating: initiating
Murals are created in cooperation with citizens, local businesses and schools, as well as community organisations through a process of co-creation. By doing so, the local identity is increased, leading to an improved sense of well-being. Several examples can be mentioned for cooperation: citizens and school children provide city stories and names to the murals, local businesses provide financial contributions. Several housing corporations and businesses started to provide space for murals on their properties and financially support the creation of these murals, as well as cooperating with their tenants and the Street Art Foundation.
Experimenting: developing step by step
The mural street art movement nurtured by the city of Heerlen serves as a spark for additional activities such as workshops, community events, as well as projects about green development. Moreover, the Street Art Foundation, which is an important link between mural arts and urban redevelopment, develops mural walking routes for tourist. By attracting tourists and increasing local attractiveness, Heerlen is also able to increase its economic performance.
Financing: innovative financing
A number of murals have been realised through community financing. The cardiology department at the local hospital worked on the creation of a mural in the hospital, with the aim of strengthening its connection with the city. Weller, a local housing corporation, donated one of its properties to create an urban gallery of mural. For the mural "Heerlen Herlon", an initiative by several creative entrepreneurs, a separate crowd-funding campaign has raised 13 000 euros in a few weeks' time.
LESSONS LEARNED / RESULTS
The Heerlen Murals project has led to the development of a total number of 67 artworks spread out over Heerlen, all co-created by artists, local citizens and businesses. It has also led to a significant increase in public and private engagement in Heerlen, as well as an increased sense of well-being.
Heerlen Murals clearly increased the attractiveness and image of the city. In 2016, the city won the Dutch Street Art Award, confirming it the "mural capital" of the Netherlands, creating the image of an innovative cultural city also on international level, known for its street art scene. Therefore, the city is developing its reputation as an internationally recognised laboratory for the development of a street art genre. Also, the Parkstad Region won the Tourist Tomorrow Award in 2016, in which Heerlen Murals played an important part. These all result in an increase of visitors coming to Heerlen. Based on estimates of the Tourist Information Centre in Heerlen, it amounts to a few thousand more visitors in 2016 compared to 2013.
Public figures from the liveability statistics provided by ABF research for the city of Heerlen for 2012-2014 show that the local perception of the physical surroundings in Heerlen turned more positive in the majority of the city's districts. Although there are no later statistics available, it shows a sign of an increased positive perception of liveability in the city. Heerlen Murals contributed to the process.
All these prove that community art-based mural paintings can play a large role to connect and engage local communities, to inject life into depressed neighbourhoods and to foster social and urban renewal. To achieve all that a clear city-wide effort is needed to facilitate the process.
DATA
City information
Population size: 50-100 th
Population development dynamics within the city administrative limits (at the time of the project): Shrinking
Population development dynamics of the functional urban area (at the time of the project): Shrinking
Website of the city: https://www.heerlen.nl/

Project information
Project territorial scale: Municipality (city/town/suburb)
Project geographical area: No data/not applicable
Project/building proportions: No data/not applicable; Project Area: No data/not applicable
Project main actors: Cultural, creative organisation, non-commercial private sector; Resident association, group, citizens; Investors, private businesses
Project dominant property ownership: Public
Project development stage (at the time of description): On-going
Project duration: No data/not applicable
Project starting date: Before 2010


Project references (web pages, social media or press publications)
http://urbact.eu/sites/default/files/331_Herleen_Gpsummary.pdf


Contact Person
Sven Portz Culture Policy Advisor, Municipality of Heerlen