THE FREE RIGA MODEL, RIGA, LATVIA
Go-between organization scouting cultural project to match vacant spaces opportunities offered by private and public owners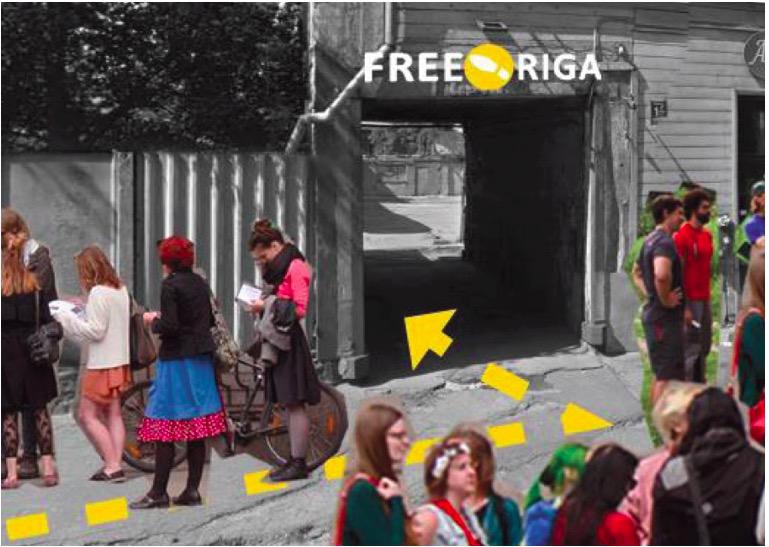 Source: photos Free Riga, Riga
Keywords: Temporary use | Abandoned Spaces | Community Art | Urban Renewal
PROJECT DESCRIPTION
The crisis of 2008 stopped the possible development projects of the city of Riga. Subsequently, many hundreds of buildings with now-theoretical development visions have been left empty, unheated and not decently looked after, where the cultural sector is booming and looking for space – culture. Although this sector had already started some successful ad-hoc temporary use projects already in 2005, these had been local and unknown to most of the property owners.
The Free Riga movement and then NGO is as a group of activists who have worked increasingly with the Municipality on temporary use matters.
Matchmaking
Free Riga has been key in several key steps of the Temporary Use issue in Riga:
Identifying (mapping) vacancy, getting the recognition of vacancy as a problem and measuring the demand for creative, social and artistic temporary use;
Providing a service of intermediary between owners and users of the spaces;
Cooperating with municipality and discovering stronger value proposition in form of tax reductions;
Developing a cooperative platform, instead of centralized, vertical organization.
LESSONS LEARNED / RESULTS
"Free Riga" has emerged as an intermediary between owners of the empty spaces and prospective users of vacancy aiming to establish recognition and the much needed credibility for temporary use as a new, yet not known instrument dealing with vacancy.
Working closely with activists with expertise and skills from and on the ground ensures for the municipality access to information but also the ability to communicate (translate) in the right language.
The resources from NGOs go beyond those of the Municipality an complete them.
Such an NGO can play a key role in brokering between owners and users of temporary use.
DATA
City information
Population size: 501 th - 1 m
Population development dynamics within the city administrative limits (at the time of the project): Growing
Population development dynamics of the functional urban area (at the time of the project): Growing
Website of the city: http://www.riga.lv

Project information
Project territorial scale: Municipality (city/town/suburb)
Project geographical area: City centre
Project/building proportions: 101-500 sqm; Project Area: No data/not applicable
Project main actors: City Government; Cultural, creative organisation, non-commercial private sector; Owners
Project dominant property ownership: Private
Project development stage (at the time of description): On-going
Project duration: More than 5 years
Project starting date: 2011-2014


Project references (web pages, social media or press publications)
Factsheet p36 in REFILL final publication https://refillthecity.wordpress.com/media/final-publication


Contact Person
e-mail address of Marcis Rubenis, Free Riga, marcis@freeriga.lv