LIVING OSTRAVA DIFFERENTLY, OSTRAVA, CZECH REPUBLIC
One-day street festival organized by urban planner and architects to mock-up and try possible redevelopment of pedestrian area in the city.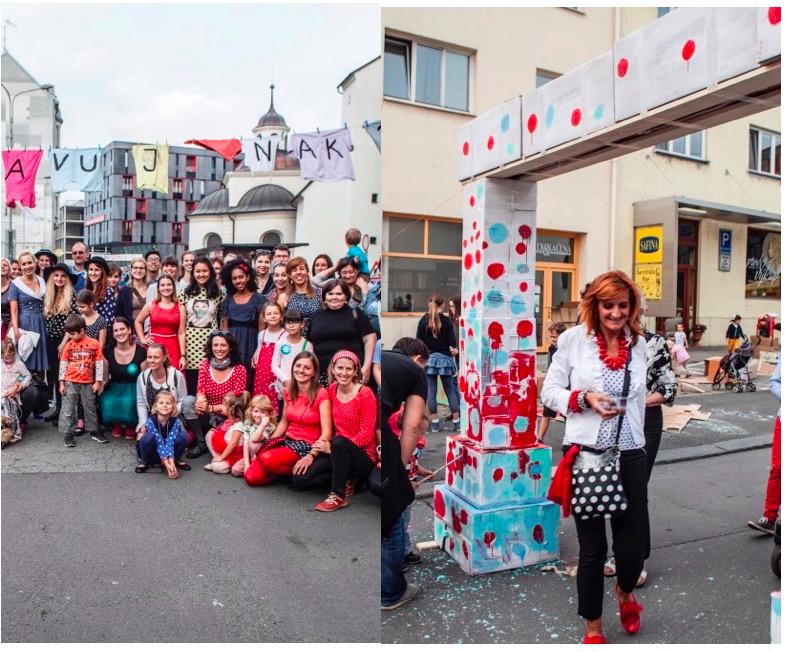 Source: photos City of Ostrava
Keywords: Temporary use | City Planning | Participation | Public spaces | Social Innovation
PROJECT DESCRIPTION
Originally, the event "Experience Your City Differently" was founded in 2006, in Prague, by an initiative called Auto*Mat promoting a better environment and quality of life in the city, thematically linked to two international awareness activities - European Mobility Week and Car Free Day. The idea behind is that certain streets close down for cars and belong to pedestrians and cyclists while filled with wide range of entertainment for any age group.
Activating: promoting
In Ostrava, the first event took place in 2013 with the title "Experience Ostrava Differently" organised by the cultural centre CoolTour, which is a main representative of a temporary use in Ostrava, and other local bottom-up initiatives and individual contributors. The objective of this event was to improve the city life with the support of the inhabitants, to encourage them to be the actors of their life in Ostrava, to show them their own responsibility to make their city a better place to be.
Experimenting: incubating
It is not only about enjoying the city differently, but this event is also about to give people in Ostrava a possibility to experience themselves differently, on different situation, from different perspective. The people in Ostrava can step out of their stereotypes and perceive neighbours as people who can reveal a completely different dimension of their life in the city. To face the fear of the unknown, however, it is surprisingly often more difficult than the marathon thorough all the permits from the municipality.
In particular the second year the festival spread into a location nicknamed "Little Copenhagen", right beside the historic centre of Ostrava. The area was turned into a pedestrian area mimicking for one day how this part of the city would look like and would be enjoyable to live if redeveloped as permanent pedestrian area.
LESSONS LEARNED / RESULTS
The popularity is clearly growing year by year as well as the number of closed streets or parts of Ostrava. Streets change into rooms full of sports, music bands, dance, fine food as well as activities related to street theatres and other entertainment. Beyond enjoying each of the different activities organized in different spots, the population of Ostrava can experience the city in a different way.
"Experience Ostrava differently" is more than one-day neighbourly festival. The greatest added value and benefit of this event is seen in active participation and involvement of the inhabitants. For several months the residents organize and prepare their neighbourly festivals, they prepare the program, facilities, improvised stage, the necessary permits and ensure the communication with local authorities. This phase of preparation offers also an opportunity for development of relationships among the community and cooperation between different actors in local society - citizens, NGOs, local businesses, institutions, municipality, agencies, etc.
"Experience Ostrava differently" is also a kind of experiential education connected to urban sustainability. These temporary events and animations seen can be perceived as a one-day laboratory to rethink the concept of urban space and planning of the city.
DATA
City information
Population size: 251-500 th
Population development dynamics within the city administrative limits (at the time of the project): Growing
Population development dynamics of the functional urban area (at the time of the project): Growing
Website of the city: www.ostrava.cz

Project information
Project territorial scale: Neighbourhood
Project geographical area: City centre
Project/building proportions: No data/not applicable; Project Area: Over 10 ha
Project main actors: City Government; Cultural, creative organisation, non-commercial private sector; Resident association, group, citizens
Project dominant property ownership: Public
Project development stage (at the time of description): On-going
Project duration: Less than 6 months
Project starting date: 2015-2018


Project references (web pages, social media or press publications)
Dreams come through the community, REFILL Mag #6 p23 http://urbact.eu/sites/default/files/media/refill_magazine_6.pdf#page=22


Contact Person
e-mail address of Katerina Bonito, City of Ostrava KBonito@ostrava.cz