FEASIBILITY STUDY, LIVERPOOL, GREAT BRITAIN
Feasibility study for the reuse of the Wellington Rooms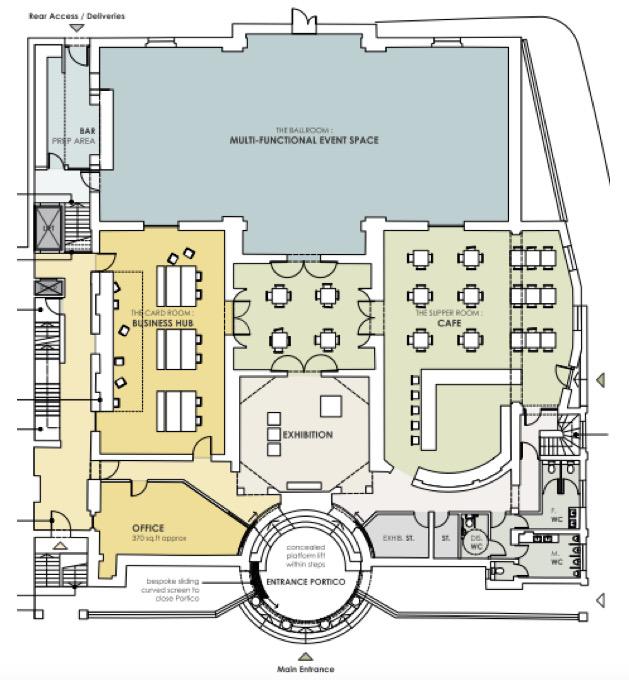 Source: OMI Architects
Keywords: Architecture | Architecture | Culture and Heritage | Architecture | Strategic Planning
PROJECT DESCRIPTION
The Wellington Rooms, a grade II listed building – originally used for high society dance balls and latterly as the city's Irish Centre – was closed in 1997 and subsequent regeneration proposals have failed to get off the ground.
Mapping & envisioning
A Feasibility Study has been undertaken to analyse the current situation and condition of the building. This provided options and costings for its refurbishment.
In addition the feasibility study was used to identify and explore new viable and sustainable uses for the abandoned Wellington Rooms that could be contained within the existing building and with minimum intervention into the historic fabric. The new uses also should contribute positively to the economic, social, and cultural regeneration of the Knowledge Quarter and the City of Liverpool.
Thus, the feasibility study explored the viability of office space, function room, restaurant and University uses.
Decision-making
The results of feasibility studies were presented and discussed with the involved stakeholders, so that all had the same understanding about the current situation of the building and potential usage options, about requirements for the reuse, etc. Based on the results of the feasibility study the decision was taken how to reuse the building.
LESSONS LEARNED / RESULTS
The feasibility study aloud to find out about the current state of the structure of the building and to identify urgent repair works to prevent further deterioration of the historic fabric. In addition it has demonstrated along a multi criteria analysis which uses, whether it is worth doing for both economic and non-economic reasons, are feasible providing a detailed estimate of its costs and benefits.
Based on the feasibility study the decision by the involved stakeholders were taken to reuse the building as an innovation hub to give students enterprise and entrepreneurship training, and provide office space to help new businesses develop.
DATA
City information
Population size: 501 th - 1 m
Population development dynamics within the city administrative limits (at the time of the project): Stable
Population development dynamics of the functional urban area (at the time of the project): Stable
Website of the city: https://liverpool.gov.uk/

Project information
Project territorial scale: Other specific territory
Project geographical area: City centre
Project/building proportions: Over 1000 sqm; Project Area: No data/not applicable
Project main actors: University professionals; NGO, Philanthropy; 0
Project dominant property ownership: Public
Project development stage (at the time of description): Completely finished
Project duration: 6 months to 2 years
Project starting date: 2015-2018


Project references (web pages, social media or press publications)
https://drive.google.com/open?id=0B8rEL892ueogTDRfSEhWV21LRDg


Contact Person
Liverpool City Council, Peter Hoey, Peter.hoey@liverpool.gov.uk