TRACES OF COMMERCE, ATHENS, GREECE
Revitalization of empty arcade of shop through incubation of new value creation business models.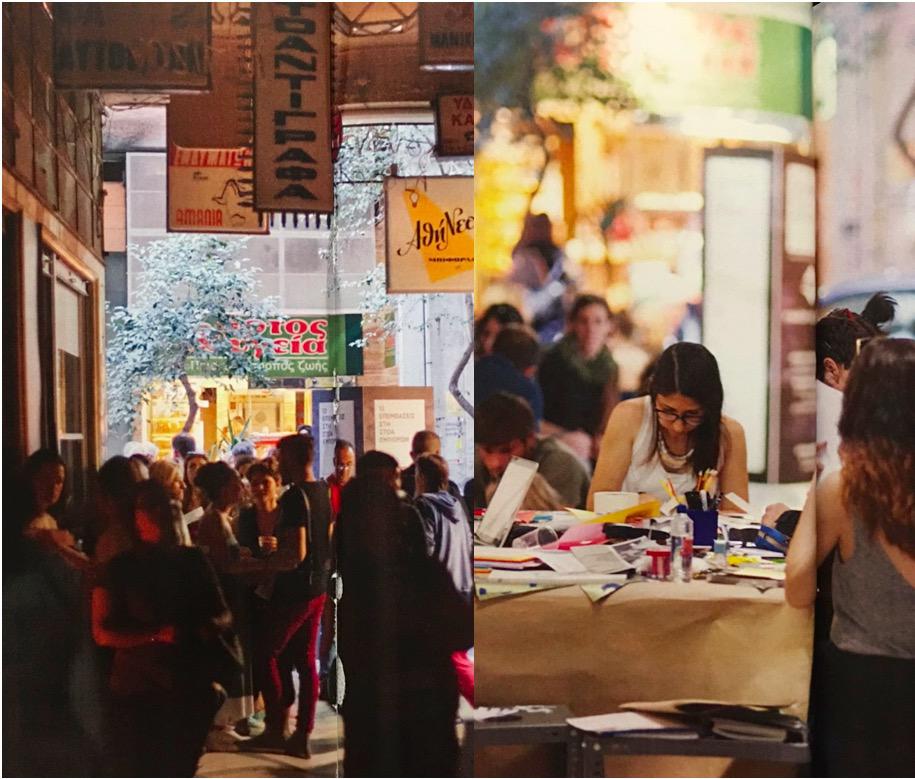 Source: photos Traces of Commerce, Athens
Keywords: Temporary use | Entrepreneurship and SMEs | Local Economic Development | Urban Renewal | Abandoned Spaces
PROJECT DESCRIPTION
The arcade of merchants (stoa emporon) is a shopping passage in the city centre of Athens. Due to the financial crisis, the shops closed down and the arcade was abandoned. As an experiment to revitalise the arcade, the project "traces of commerce" published an open call for temporary use projects in the shops. Users would be allowed to use the spaces free of rent and in return were expected to organise public events, such as workshops and seminars. Importantly, their activities had to be unpaid. This was a condition set by the owner of the property, a state-run pension fund.
Experimenting: incubating
Over a period of four months, over 300 initiatives applied. Of these, two groups of twelve were selected to be housed in the arcade for eight months. Their projects included a fab lab, a hat-making workshop and a silversmith workshop, a fanzine library with over 300 magazines, a typography workshop and many others.
LESSONS LEARNED / RESULTS
Traces of Commerce was a success for all parties involved, from the property owner to the City of Athens, the temporary users themselves, the public that was drawn to the activities in the arcade and the businesses in the immediate area. For the city, this project has triggered discussions about the issue of empty arcades in Athens. These are considered, in the words of the architect G. Tzirtzilakis, the most charming secret of Athens. The users, on the other hand, found their experience useful for the growth of their commercial activities. The project attracted quite a bit of media attention and drew many visitors. As a result, business also improved for the nearby shops, cafes and bars.
In Athens, Traces of Commerce has served as a model for other publicly owned empty buildings. Athens went on to apply the model in other parts of Athens, such as in the Kypseli Market. As a next step, Athens is measuring the social impact of these projects and looking for a sustainable financial model. This way, the arcades may once again be turned into lively spaces, actively used by the people of Athens.
DATA
City information
Population size: 501 th - 1 m
Population development dynamics within the city administrative limits (at the time of the project): Growing
Population development dynamics of the functional urban area (at the time of the project): Growing
Website of the city: https://www.cityofathens.gr/en/

Project information
Project territorial scale: Neighbourhood
Project geographical area: City centre
Project/building proportions: 101-500 sqm; Project Area: Size 0-1 ha
Project main actors: Owners; Investors, private businesses; 0
Project dominant property ownership: Mixed
Project development stage (at the time of description): Half way
Project duration: Less than 6 months
Project starting date: 2015-2018


Project references (web pages, social media or press publications)
Temporary Use And DIY Urbanism In Athens' Empty Buildings, REFILL Mag #5 p18 http://urbact.eu/sites/default/files/media/refill_magazine_5.pdf#page=18; Setup of a bridge between owners and users in Bremen, Athens and Ghent (DDSV BREMEN p19) http://urbact.eu/sites/default/files/media/temporary_use_as_an_asset_to_reduce_exclusion_-_ddsv_bremen.pdf#page=19; Providing Temporary Use Services, REFILL Mag #4 p30 http://urbact.eu/sites/default/files/media/refill_magazine_4.pdf#page=30;


Contact Person
e-mail address of Nicholas Karachalis, REFILL local partner karachalis@gmail.com