LIVING STREET, GHENT, BELGIUM
Temporary reapproriation of 25 streets of the city of Ghent by inhabitants living nearby over 2 months in the summer.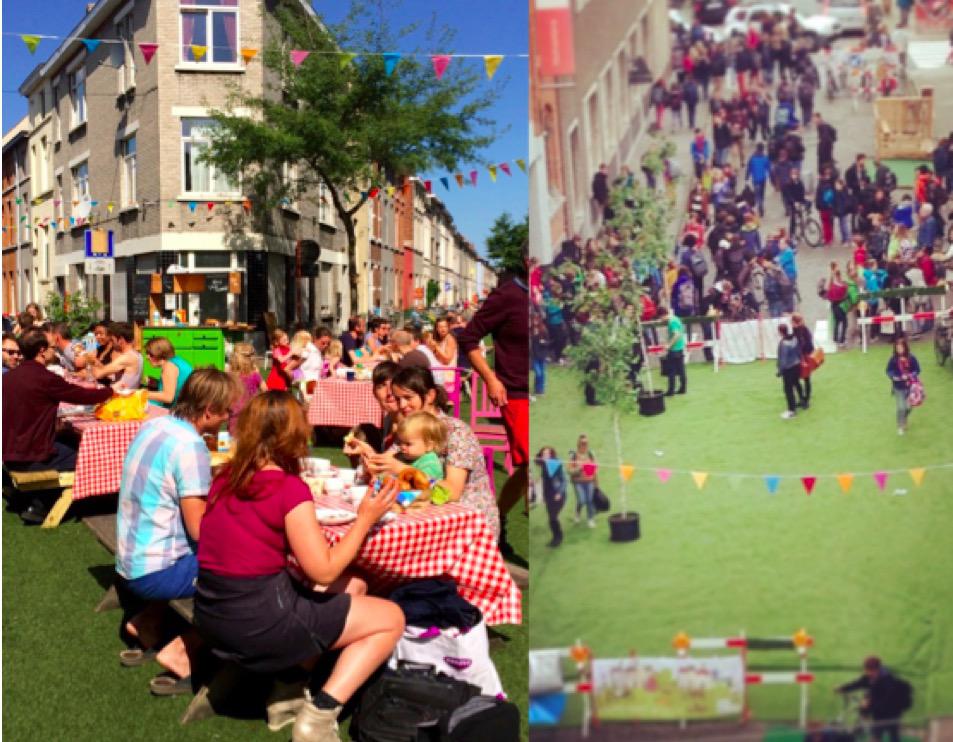 Source: photos Living Street, Ghent
Keywords: Temporary use | Participation | Public spaces | Social Innovation | Strategic Planning
PROJECT DESCRIPTION
Living Streets is an experiment that allows citizens to temporarily transform their street into a sustainable place they've always dreamed of.
Envisioning: relating to public interest
During a time period of two months some streets in Ghent are turned into a beautiful and lively meeting space covered with a green carpet, plants, playgrounds for children, shared meals and a whole range of activities that cannot take place normally when these streets are used for traffic. In three years the project has grown from two living streets to twenty-five living streets.
Activating & experimenting: initiating & testing
Trojan Lab, the independent network of collaborating citizens, businesses, governments and organizations organizing the Living Streets, shows trough practical experience that structural changes towards new and more sustainable way of living are possible and so-doing stimulates the sustainable transition in the city.
LESSONS LEARNED / RESULTS
Living Streets Ghent, winner of the Flemish Price Urban Development (Thuis in de Stad prijs) are a laboratory, searching for solutions to help accelerate a sustainable City.
As participants stated during the project: "Experimentation is a huge opportunity to strengthen a neighbourhood's social contacts. During the process almost all inhabitants get in touch with each other as they use their streets as parks. These intensified contacts stay after the testing period is over."
DATA
City information
Population size: 251-500 th
Population development dynamics within the city administrative limits (at the time of the project): Growing
Population development dynamics of the functional urban area (at the time of the project): Growing
Website of the city: www.stad.gent

Project information
Project territorial scale: Neighbourhood
Project geographical area: City centre
Project/building proportions: No data/not applicable; Project Area: 5-10 ha
Project main actors: City Government; Cultural, creative organisation, non-commercial private sector; Resident association, group, citizens
Project dominant property ownership: Public
Project development stage (at the time of description): On-going
Project duration: Less than 6 months
Project starting date: 2015-2018


Project references (web pages, social media or press publications)
City Labs Reinvent The City, REFILL Mag #6 p35 http://urbact.eu/sites/default/files/media/refill_magazine_6.pdf#page=35


Contact Person
e-mail address of Emma Tidgat, Ghent city administration, Emma.Tytgadt@stad.gent