FUND OF TEMPORARY USE, GHENT, BELGIUM
Ghent initiated a 'Fund of Temporary Use' in 2014 to support light adaptation of temporary use places and to give a financial incentive to new ideas or initiatives of temporary use.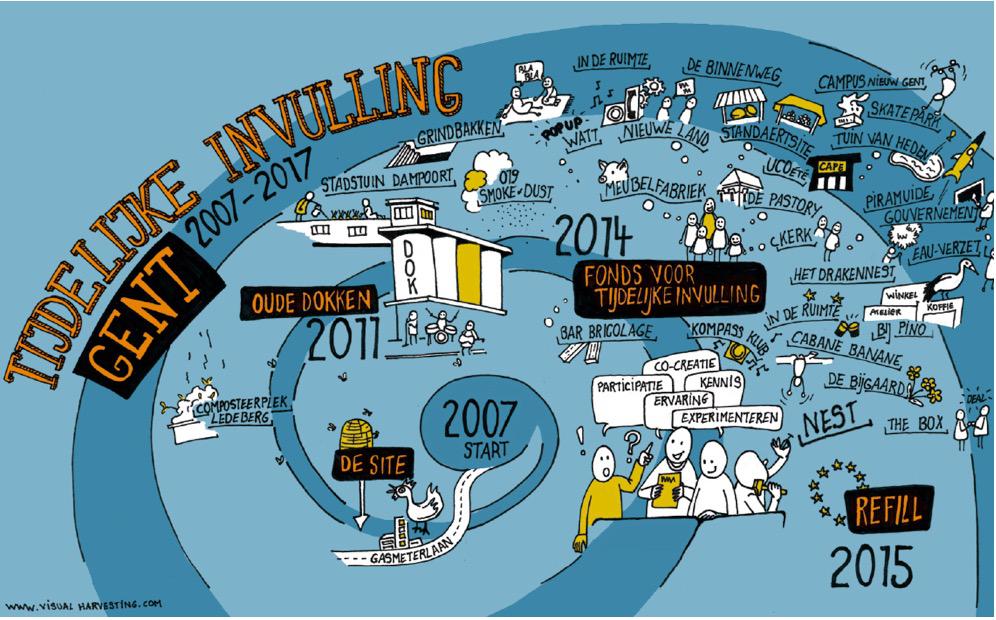 Source: photos City of Ghent
Keywords: Temporary use | Financial Engineering | Participation | Urban Renewal
PROJECT DESCRIPTION
The initiative get funded, should:
Be achieved in a temporarily vacant spot (fallow land, unoccupied premises, vacant buildings…) pending a new destination.
Be a contribution to an enhanced liveability of the (broad) neighbourhood, the district or the city.
Succeeds in generating new dynamics or provides a surplus value for future developments.
Creates new networks and cross-fertilization with various policy domains.
Financing: alternative financing
The annual budget of the fund is 300.000€.
Applying initiatives get supported between 6.000 € and 35.000 €. TU Initiatives applying for this financial support have to go through a relatively simple application process and fill in a template. They are invited to have an interview with a cross-sectorial jury. This cross-sectorial jury consists of members of different departments of our city (social, environmental, urban development, urban planning, cultural, youth, and the policy participation department). This jury approves the application (according to criteria) and decides on the budget.
Mainstreaming : establishing agency
The financial means of the Fund go to support working material to set-up and repair the building, infrastructure works for safety measures (i.e. fire safety, and burglary prevention) and soundproofing, and additional costs of insurance, maintenance and in some cases communication.
The generally economically weak initiative hosted in temporary use have through the Fund the possibility to cope with basic requirement to make the vacant space they get viable and establish their project for the temporary period.
LESSONS LEARNED / RESULTS
Since the start of this Fund TU, there has been a rise of smaller bottom-up temporary use projects in different neighbourhoods and coordinated by different citizens.
A cross-sectorial jury is involved in the intake and the decision making process. As a result, the initiators of temporary use projects easily connect with the municipality in a very integrated way.
This approach has already shown its success in a rise of bottom-up initiatives of temporary use.
DATA
City information
Population size: 251-500 th
Population development dynamics within the city administrative limits (at the time of the project): Growing
Population development dynamics of the functional urban area (at the time of the project): Growing
Website of the city: www.stad.gent

Project information
Project territorial scale: Municipality (city/town/suburb)
Project geographical area: City centre
Project/building proportions: No data/not applicable; Project Area: No data/not applicable
Project main actors: City Government; Cultural, creative organisation, non-commercial private sector; Resident association, group, citizens
Project dominant property ownership: Mixed
Project development stage (at the time of description): On-going
Project duration: More than 5 years
Project starting date: 2011-2014


Project references (web pages, social media or press publications)
Factsheet p 29 in REFILL final publication https://refillthecity.wordpress.com/media/final-publication


Contact Person
e-mail address of Marc Verheirstreaten, Ghent city administration, Marc.Verheirstraeten@stad.gent